Moroccan Bath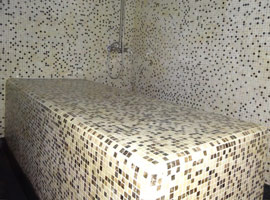 call To Book +971 4 370 9706
For The Health Conscious Men in Dubai 

A Healthy, Anti-Aging and Skin-Conditioning Moroccan Bath
The Moroccan Bath known by some, as "Hamam Maghrabi" is a bathing tradition that in the past, and in some places today, is performed in public baths. It was popular in the past, and still is today due to its anti-aging and skin-healing properties.
 Your skin naturally undergoes a process of continual shedding and renewal, however, as you age this process slows down and dead skin cells accumulate on your face and body, clogging your pores, building up toxins in the skin, and resulting in a rough, aged look. Removing the dead skin cells stimulates cell regeneration and improves blood circulation to help you achieve younger looking skin and prevent early aging.
Cool Aroma has translated this ancient tradition into a modern and private experience.  First a silky coating of luxurious Moroccan soap is gently applied over your body. Then you will relax in the steamy atmosphere of our Moroccan Bath to open your pores and prepare your body for the removal of dead skin cells through an exfoliating scrub that tightens, brightens, strengthens, and softens your skin so that it looks and feels flawless, and has a youthful, radiant glow. Cool Aroma uses premium scrubs from Spa Redi® and La Fresh®. You will be offered a choice from our selection of cucumber, apricot, lemon, olive, honey & milk, and lavender scrubs that deep-clean your pores while nourishing your skin with antioxidants to help maintain its natural moisture content and balance. 
A Cool Aroma Moroccan Bath is good for you both mentally and physically and when followed by one of our fabulous massages, you'll feel even more invigorated and refreshed.  
A Cool Aroma Moroccan Bath Will:
Improve the elasticity and clarity of your skin,
Balance your skin's oil secretions and control acne,
Refine the texture of your skin by removing the dead skin layer, and
Rehydrate your skin and soothe redness and

flakiness

.
Moroccan Bath at Cool Aroma Spa:
Price: For 60 mins AED 300 only.
Moroccan bath with 1 hour Body Massage (choose any massage from listed here) AED 460 only.
To schedule a Moroccan Bath call Cool Aroma Spa at 971 4 370 9706
We are open 10am to midnight, 7 days a week to accommodate your busy schedule.
Testimonial
I wish all of you there a very Happy New Year and send thanks for the most attentive service.  See you from January 22-29.

Thank you for the time I spent with you on Wednesday and today.Ramesh was amazing for the ayurvedic massage and the Moroccan bath.He was very professional and respectful. I want to commend him completely..

Just a note to say thank you to Michael for the excellent services during my week in Dubai. See you all in October.

I visited cool aroma today and I must stay excellent staff and i had a refreshing moroccan bath.

Special thanks to Jayesh (moroccan) & Raj (waxing)

I will be back for other treatments soon

I just wanted to thank you and let you know that your spa services are fantastic. I left rejuvenated and feeling great. Libi and Mirna are the best.

I really enjoyed the Moroccan bath and the massage that I would like to have it again with Libi.

I wanted to say thank you, again, to your kind team – wonderful as always.I also, as mentioned when we chatted before, wanted to say a big thank you to Myrna, who was exceptional for my session.She was kind, considerate and very warm and welcoming! A real credit to your company and lovely lady indeed. The massage was again utterly excellent and thorough. A real pleasure to be attended to by such a wonderful and skilled lady. Again, I left Cool Aroma feeling relaxed, stress free and ready to take on another hard week! I cannot thank you enough, and once again, my sincere thanks to the lovely Myrna and Yui! Looking forward to my next appointment. All the very best to you and your exceptional team! Please do pass on my compliments and thanks to Myrna and Yui

All I can say is that it was phenomenal! I was lucky enough to get Yui for my 90-minute Ashiatsu Massage. Everyone was very welcoming, informative and friendly.Yui was extremely professional, I left there feeling like, to a degree, I was in a new body. I will definitely be back.My greatest thanks to you, to your whole team, and to dear Yui – please do pass on my thanks to her!