Waxing for Men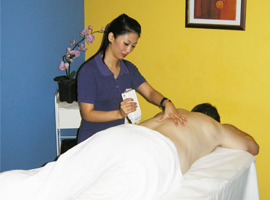 call To Book +971 4 370 9706
Whether you want all or part of your body hair to be removed on a regular basis, for some
important event or for sports reasons, we offer you a selection of gentle treatments with Rica Waxes® hair removal products for your epilation (hair removal). Rica Waxes® is a superior quality Italian brand that ensures minimal pain and an effective waxing experience to keep your skin silky smooth for a very long time. In our spa we offer you gentle treatments for all types of skin. Traditional wax with different blends of herb or vegetable oils produces a honey like consistency that nourishes and moisturises the skin, permitting it to achieve smoother depilation with long-lasting effect. Call and make an appointment for an effective waxing treatment to have your skin looking and feeling great.
As not everyone looking to have hair removed is a fan of waxing, we also offer hair removal by shaving (not facial) or using a chemical cream. Whilst neither of these methods is as effective in delaying the regrowth of hair as traditional waxing, both offer a pain-free method – the choice is yours.
Waxing at Cool Aroma Spa:
| | | |
| --- | --- | --- |
| Full Body Package | 60-90 min | AED 480 |
| Full Legs | 20-30 min | AED 100 |
| Half Legs | 20-20 min | AED 60 |
| Full Arms | 15-30 min | AED 80 |
| Half Arms | 10-15 min | AED 45 |
| Under Arms | 10-15 min | AED 65 |
| Back | 20-30 min | AED 110 |
| Chest | 20-30 min | AED 110 |
| Belly | 10-15 min | AED 55 |
| Butt | 10-15 min | AED 80 |
Call to book your treatment on + 971 4 370 9706.
Testimonial
I wish all of you there a very Happy New Year and send thanks for the most attentive service.  See you from January 22-29.

Thank you for the time I spent with you on Wednesday and today.Ramesh was amazing for the ayurvedic massage and the Moroccan bath.He was very professional and respectful. I want to commend him completely..

Just a note to say thank you to Michael for the excellent services during my week in Dubai. See you all in October.

I visited cool aroma today and I must stay excellent staff and i had a refreshing moroccan bath.

Special thanks to Jayesh (moroccan) & Raj (waxing)

I will be back for other treatments soon

I just wanted to thank you and let you know that your spa services are fantastic. I left rejuvenated and feeling great. Libi and Mirna are the best.

I really enjoyed the Moroccan bath and the massage that I would like to have it again with Libi.

I wanted to say thank you, again, to your kind team – wonderful as always.I also, as mentioned when we chatted before, wanted to say a big thank you to Myrna, who was exceptional for my session.She was kind, considerate and very warm and welcoming! A real credit to your company and lovely lady indeed. The massage was again utterly excellent and thorough. A real pleasure to be attended to by such a wonderful and skilled lady. Again, I left Cool Aroma feeling relaxed, stress free and ready to take on another hard week! I cannot thank you enough, and once again, my sincere thanks to the lovely Myrna and Yui! Looking forward to my next appointment. All the very best to you and your exceptional team! Please do pass on my compliments and thanks to Myrna and Yui

All I can say is that it was phenomenal! I was lucky enough to get Yui for my 90-minute Ashiatsu Massage. Everyone was very welcoming, informative and friendly.Yui was extremely professional, I left there feeling like, to a degree, I was in a new body. I will definitely be back.My greatest thanks to you, to your whole team, and to dear Yui – please do pass on my thanks to her!