Healing Hilot Massage
Suggested for :  inflammation and muscle pain, injured tissues, flexibility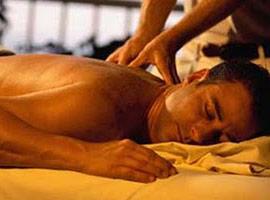 call To Book +971 4 370 9706
Healing Hilot is a traditional Filipino massage treatment that targets the body's deep tissues promoting healing of damaged muscles. Healing Hilot is a unique technique that incorporates deep pressure, firm kneading and gentle strokes.
Healing Hilot massage therapy incorporates the use of wonderful herbal oils. These consist of special herbal extracts which can really help in treating the general health of your body. When your body absorbs herbal oils, the skin becomes softer whilst any inflammation and muscle pain is significantly reduced. During the massage, the therapist applies some of these warm oils to your body, in particular concentrating on painful areas. Healing Hilot is one of the most effective therapies for treating sore and stiff muscles, relieving pain and removing any toxins.
Healing Hilot is also often used for skeletal manipulation to treat spinal disc problems. A Healing Hilot massage has a wonderful curing effect on the general health of the human body. It improves all-round flexibility and fitness, whilst it also relaxes deep muscles. Healing Hilot massage also takes away weariness and tension. A Healing Hilot massage is a great therapy for both office workers and sportsmen, as it is very helpful in reviving the nerves, healing injured tissues and relieving any tight and painful muscles.
Call and book a relaxing session of exotic Healing Hilot massage to experience the wonderful healing effect of this ancient Filipino therapy – treat those muscles and regain that energy and power!
Healing Hilot Massage at Cool Aroma Spa
Price: 60, 90 or 120 mins is AED 210, 310 or 400
Call to book your treatment on + 971 4 370 9706.
AED 1,800 for 10x 1 hour Massage – choose from Ashiatsu, Deep Tissue, Shiatsu, Thai
AED 1,700 for 10x 1 hour Massage – choose from Aromatherapy, Balinese, Healing Hilot
Testimonial
I wish all of you there a very Happy New Year and send thanks for the most attentive service.  See you from January 22-29.

Thank you for the time I spent with you on Wednesday and today.Ramesh was amazing for the ayurvedic massage and the Moroccan bath.He was very professional and respectful. I want to commend him completely..

Just a note to say thank you to Michael for the excellent services during my week in Dubai. See you all in October.

I visited cool aroma today and I must stay excellent staff and i had a refreshing moroccan bath.

Special thanks to Jayesh (moroccan) & Raj (waxing)

I will be back for other treatments soon

I just wanted to thank you and let you know that your spa services are fantastic. I left rejuvenated and feeling great. Libi and Mirna are the best.

I really enjoyed the Moroccan bath and the massage that I would like to have it again with Libi.

I wanted to say thank you, again, to your kind team – wonderful as always.I also, as mentioned when we chatted before, wanted to say a big thank you to Myrna, who was exceptional for my session.She was kind, considerate and very warm and welcoming! A real credit to your company and lovely lady indeed. The massage was again utterly excellent and thorough. A real pleasure to be attended to by such a wonderful and skilled lady. Again, I left Cool Aroma feeling relaxed, stress free and ready to take on another hard week! I cannot thank you enough, and once again, my sincere thanks to the lovely Myrna and Yui! Looking forward to my next appointment. All the very best to you and your exceptional team! Please do pass on my compliments and thanks to Myrna and Yui

All I can say is that it was phenomenal! I was lucky enough to get Yui for my 90-minute Ashiatsu Massage. Everyone was very welcoming, informative and friendly.Yui was extremely professional, I left there feeling like, to a degree, I was in a new body. I will definitely be back.My greatest thanks to you, to your whole team, and to dear Yui – please do pass on my thanks to her!