Men's World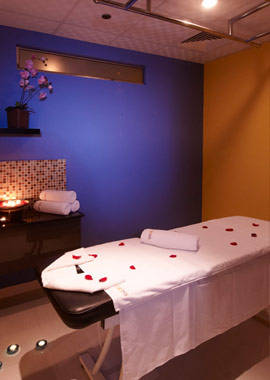 call To Book +971 4 370 9706
Early years- The beginning
Founded in 2009, Cool Aroma Gentleman's Spa began operations in July 2010 from its current main location in Oud Metha, Dubai.
Now in its fourth year of trading, Cool Aroma Gentlemen's Spa has a regular growing clientèle and we plan to open a branch in Business Bay during 2014.
Mission & Vision
Our vision from the outset was and continues to be the provider of the best wellness services available. Providing a holistic wellness spa experience exclusively for men, we stretch our horizons in terms of the quality of services provided, the variety of treatments offered and the expertise and innate knowledge of our therapists.
The experience
Every spa treatment entitles you to access exclusive services by way of our multi- purpose treatment rooms, be it for body treatments, facials or hand and foot care. Showers, Moroccan Bath, Sauna and changing rooms with lockers provide you the means to relax and enjoy your spa treatment in the best way possible.
Music is piped to every room with individual volume controls, centrally diffused aroma scent, dimmable ceiling lights and the discreet use of tea light candles, all make this spa experience so much more enriching.
Quality is not something we believe in compromising on, be it body treatments, massage services or hand and foot treatments, all are carried out using leading, branded products.
Our dedicated staff work a 2-shift system and provide their expertise throughout every week from 10 am – 12 midnight.
We Care
We are one of the few spas that worry about the carbon footprints we leave behind. We are doing our bit by making use of LED lighting and electronic tea lights. Moreover since our laundry heap is considerable, we only engage the services of a 'green' eco-friendly laundry. Experience relaxation with us and enjoy an experience that leaves you feeling good physically, mentally and consciously.
Free shower with any treatment.  
Free 15-20 min use of Sauna facility over 1 hour treatment (subject to sauna room availability)
Testimonial
I wish all of you there a very Happy New Year and send thanks for the most attentive service.  See you from January 22-29.

Thank you for the time I spent with you on Wednesday and today.Ramesh was amazing for the ayurvedic massage and the Moroccan bath.He was very professional and respectful. I want to commend him completely..

Just a note to say thank you to Michael for the excellent services during my week in Dubai. See you all in October.

I visited cool aroma today and I must stay excellent staff and i had a refreshing moroccan bath.

Special thanks to Jayesh (moroccan) & Raj (waxing)

I will be back for other treatments soon

I just wanted to thank you and let you know that your spa services are fantastic. I left rejuvenated and feeling great. Libi and Mirna are the best.

I really enjoyed the Moroccan bath and the massage that I would like to have it again with Libi.

I wanted to say thank you, again, to your kind team – wonderful as always.I also, as mentioned when we chatted before, wanted to say a big thank you to Myrna, who was exceptional for my session.She was kind, considerate and very warm and welcoming! A real credit to your company and lovely lady indeed. The massage was again utterly excellent and thorough. A real pleasure to be attended to by such a wonderful and skilled lady. Again, I left Cool Aroma feeling relaxed, stress free and ready to take on another hard week! I cannot thank you enough, and once again, my sincere thanks to the lovely Myrna and Yui! Looking forward to my next appointment. All the very best to you and your exceptional team! Please do pass on my compliments and thanks to Myrna and Yui

All I can say is that it was phenomenal! I was lucky enough to get Yui for my 90-minute Ashiatsu Massage. Everyone was very welcoming, informative and friendly.Yui was extremely professional, I left there feeling like, to a degree, I was in a new body. I will definitely be back.My greatest thanks to you, to your whole team, and to dear Yui – please do pass on my thanks to her!