Body Scrubs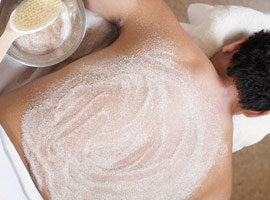 call To Book +971 4 370 9706
As your skin has its own process of natural renewal, dead skin cells and toxins accumulate in the upper layers making your skin look dull and rough. In our spa we offer a range of enjoyable, gentle scrubs with a deep cleansing effect for maximum exfoliation (skin cell removal). Having natural essences, our body scrubs effectively rub out old skin cells to expose the younger, softer skin just below. We use only professional skin care products of renowned international brands such as Spa Redi® and La Fresh®.
Our Cucumber, Apricot, Lemon, Olive, Chocolate, Honey & Milk and Lavender scrubs not only effectively cleanse deep pores but also nourish your skin and help maintain its natural moisture content and balance. Cucumber, Lavender, Apricot and Lemon scrubs are the best solution in hot sunny weather as they have a pleasant cooling effect and give your skin an enjoyable refreshment and radiant glow.
Antioxidants present in our body scrubs help strengthen the skin's health and resistance to stress and environmental pollution. Removing dead skin cells, body scrubs stimulate cell regeneration and improve blood circulation. These amazing properties allow you to maintain a younger looking skin, soften its rough texture and prevent early aging.
Call and book one of our effective Body Scrub treatments today to improve your skin's health and give you a younger, fresher look.
Body Detox Scrub at Cool Aroma Spa:
GOLD Scrub
Price:

30 – 40 minutes is AED 190


Honey & Milk / Cucumber / Olive / Apricot / Lemon
Price:

30 – 40 minutes is AED 170


Call to book your treatment on + 971 4 370 9706.