Express facial
Suggested for :  brightening, improved skin texture, quick clean up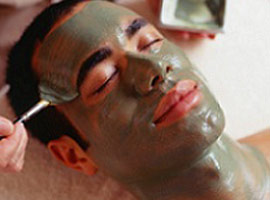 call To Book +971 4 370 9706
Try our Express Facial treatment specially designed for active urban men. Keep your face ever bright and fresh even when you have little time. Express Facial treatment is aimed at fast and effective skin rejuvenation. Depending on your skin type, be it oily, normal or dry, in our elegant spa in Dubai you will have a specially tailored express facial treatment that will bring a glow to your face. This fast and effective procedure can be carried out in just 30 minutes ahead of an important meeting, date or event.
If you do not have time to spend hours in spas, but want to maintain your skin healthy and
attractive, our Express Facial treatment is the best alternative to longer spa procedures.
An Express Facial treatment will be helpful in improving your skin structure, smoothing its texture, and evening out its tone. The skin brightening technology of our Express Facial treatment will instantly increase your skin radiance and reduce discolouration. Your dry skin will be well-hydrated and any oily skin will be cleared of impurities and excessive oil.
Our Express Facial treatment will leave your skin feeling light and silky smooth. Enjoy all the advantages of this fast and effective spa therapy, call and schedule an appointment today!
Express Facial at Cool Aroma Spa
Price: 30 minutes is AED 120
Call to book your treatment on +971 4 370 9706.
Free shower with any treatment.  
Free 15-20 min use of Sauna facility over 1 hour treatment (subject to sauna room availability)