Facials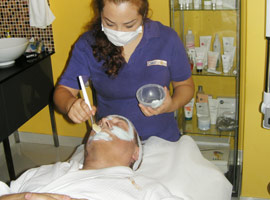 call To Book +971 4 370 9706
Facials in our spa are exclusively designed to meet your needs. We know that most male skin issues are often shaving-related, such as razor burns, or other conditions like skin dullness and sensitivity.
We offer a wide range of facial treatments that target
rough skin – damaged by spending time outdoors exposed to the sun
acne type problems
excessive sweating
city pollution
skin conditions associated with ageing.
Our Spa's skin care list includes top treatments for:
painless deep cleansing
skin purifying
skin hydrating(moisturising)
brightening(whitening)
toning
galvanic anti-ageing (wrinkle reduction)
Our range of treatments can extend from 30 minutes for an Express Facial to a couple of hours for a Galvanic Spa Facial.
We use only top rated international product brands such as Dr Renaud® and Nu Skin®. These branded products have proven extremely powerful in treating issues of dry, oily and normal skin. Their effective, clinically tested formulae have clearly demonstrated that their specially selected natural ingredients greatly benefit and revitalize the skin making it smooth and attractive.
Regular facial treatments will help reduce pore sizes and excessive oil secretions; they will also hydrate your skin to recover its more youthful look.
Check the whole list of facial treatments offered in our spa, get the most pleasurable, personal experience that will take you away from the tensions of city life.
Dr. Renaud® Anti-Ageing Facial At Cool Aroma Spa
Price: 60 – 70 minutes is AED 280
Call to book your treatment on + 971 4 370 9706.
Free shower with any treatment.  
Free 15-20 min use of Sauna facility over 1 hour treatment (subject to sauna room availability)