Hydrating Treatment
Suggested for :  dry skin, ageing skin, flaky skin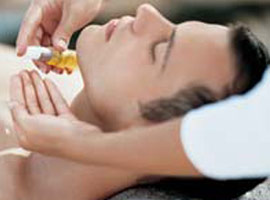 call To Book +971 4 370 9706
Due to loss of collagen, dry skin is prone to earlier ageing and as a result it loses its firmness, elasticity and tone. The purpose of our hydrating skin care is to moisturise and saturate superficial and deep skin layers. Regular hydrating treatment helps maintain your skin fresh and young, it revitalises skin cells promoting a radiant, fresh look.
Hydration and keeping your facial skin supplied with moisture and essential nutrients is
necessary for retaining its good functioning to prevent earlier ageing. Dehydrated
facial skin becomes dry, less elastic and prone to wrinkles; it may often suffer from irritation, inflammation and itchiness.
Our gentle hydrating facial treatment is specially designed to rehydrate the skin by supplying it with nutrients that promote the production of collagen in the cells. This treatment revives the ability to maintain and balance moisture and improves the skin's function and good appearance. Our Hydrating treatment renovates the skin from sun damage and the effects of constant stresses. Proper hydration helps keep a healthy and youthful complexion. Hydrating facial treatment softens the skin and helps to smooth moderate wrinkles, reduce flaky superficial cells and improve elasticity.
Call and schedule an appointment for a revitalizing Hydrating Treatment to target the ultimate source of dehydration and skin ageing.
Hydrating Treatment at Cool Aroma Spa
Price: 60 – 70 minutes is AED 250   
Call to book your treatment on + 971 4 370 9706.
Free shower with any treatment.  
Free 15-20 min use of Sauna facility over 1 hour treatment (subject to sauna room availability)