Balinese Massage
Suggested for :  muscle pain, damaged tissues, joint pain, stress relief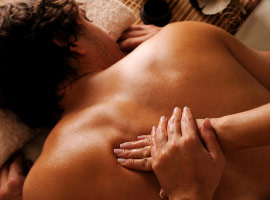 call To Book +971 4 370 9706
Whether you want to treat muscle pain or eliminate stress, Balinese Massage will be the most helpful in both cases. Balinese Massage is a luxurious spa therapy that includes a variety of reviving techniques. It is a combination of acupressure, reflexology and aromatherapy. The deep tissue and muscular massage technique can cure all damaged tissues, relieve joint pain and strained muscles. Balinese Massage is an incredibly effective treatment for a number of ailments including anxiety, migraines, sleep disorders, stress and depression.
The deep pressure relaxes and treats muscle pain, contributing to a faster detoxification of the whole body. The continuous soft strokes, on the other hand, improve the blood circulation in any tissue and muscle fibres close to the skin surface. Finally, the gentle stretches enhance flexibility and shape up your physique. They can also help to prevent any future muscle and joint injuries.
Acupressure, which is used during a Balinese Massage, is a renowned, ancient technique for soothing pain and balancing the subtle energies of the body and spirit. When pressing on specific points, a therapist can unlock the accumulated energy and enable a completely free energy flow throughout the body. Aroma oils harbour a wonderful effect on the respiratory system to leave you feeling calm and relaxed.
Do you want to get re-energized and experience unknown facets of pleasure? Then call and book a refreshing session of Balinese Massage!
Balinese Massage at Cool Aroma Spa
Price: 60, 90 or 120 mins is AED 210, 310 or 400
Call to book your treatment on + 971 4 370 9706.
AED 1,800 for 10x 1 hour Massage – choose from Ashiatsu, Deep Tissue, Shiatsu, Thai
AED 1,700 for 10x 1 hour Massage – choose from Aromatherapy, Balinese, Healing Hilot