Deep Tissue Massage
Suggested for :  chronic pain, muscle tension, stress, improved blood flow, injured muscles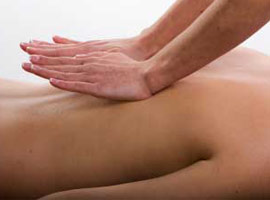 call To Book +971 4 370 9706
Combining stretching, skin rolling, palm, thumb pressure and long stroke techniques, this traditional massage therapy concentrates on the deep layers of muscles in the body. It helps reduce chronic pain, relieve stress, improve blood flow, and calm your mind.
By increasing the flow of blood through the body, a Deep Tissue Massage helps reduce inflammation of muscles that causes severe pain. It also helps reduce muscle tension that occurs as a side effect of chronic pain by ensuring the loosening of tight tissue clusters.
Known to break up and eradicate scar tissues in the body by promoting the lymphatic circulation and drainage, Deep Tissue Massage helps increase the flexibility and motion in affected areas. This movement also encourages the dispersal of toxins and helps in healing injured muscles. Hence it is often a prescribed treatment for rehabilitating injuries caused due to sports.
Transcend to a path that is extremely relaxing, a path to health and harmony.Call and make an appointment with one of our professional therapists for a healing session of Deep Tissue Massage. Treat your muscle pain and improve your general health with the wisdom of the strategic strokes and pressure applied to the problem areas.
Deep Tissue Massage at Cool Aroma Spa
Price: 60, 90 or 120 mins is AED 220, 320 or 410
Call to book your treatment on + 971 4 370 9706.
AED 1,800 for 10x 1 hour Massage – choose from Ashiatsu, Deep Tissue, Shiatsu, Thai
AED 1,700 for 10x 1 hour Massage – choose from Aromatherapy, Balinese, Healing Hilot