Foot Reflexology Massage
Suggested for :  Improved blood circulation, boosting immunity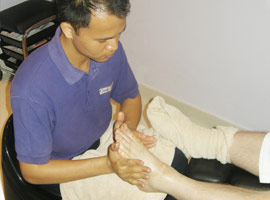 call To Book +971 4 370 9706
Did you know that specific points on the feet reflect the condition of the respective inner organs? Foot Reflexology Massage is a special therapy aimed at improving the health and function of the body's organs. Reflexology can play an efficient part in the treatment of the heart, liver, bladder,stomach and kidneys. This massage stimulates specific acupressure points on your feet, meaning the therapist relaxes all of your body. Performing foot reflexology massage, the therapist uses fingers or a wooden stick and applies cream with aroma oils. Aroma oils moisturize your skin which promotes healing and makes it feel much softer.
A Foot Reflexology Massage improves blood circulation in the brain, kidneys and intestine.
It promotes better digestion and can prevent or even cure headaches and sleep disorders. Foot Reflexology Massages stimulate the function of more than 7,000 nerves located in the feet. This boosts the immune system and the self-healing powers of the body; additionally reflexology helps with recovery after surgery to maintain the results of medical treatment. After completing a course of Foot Reflexology for a specific health problem, many people discover considerable improvement and stable results.
With ever-growing levels of stress, a Foot Reflexology Massage helps to treat physical, emotional and mental stress, thereby allowing you to relax and maintain health and well being. Why not call and book a Foot Reflexology Massage at our Spa to relax your tired feet and rejuvenate your whole body?
Foot Reflexology at Cool Aroma Spa
Price: 30, 45 or 60 minutes is AED 140, 170 or 200
Call to book your treatment on + 971 4 370 9706.
AED 1,800 for 10x 1 hour Massage – choose from Ashiatsu, Deep Tissue, Shiatsu, Thai
AED 1,700 for 10x 1 hour Massage – choose from Aromatherapy, Balinese, Healing Hilot