Healing Hilot Massage
Suggested for :  inflammation and muscle pain, injured tissues, flexibility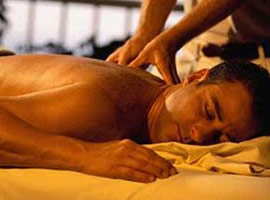 call To Book +971 4 370 9706
Healing Hilot is a traditional Filipino massage treatment that targets the body's deep tissues promoting healing of damaged muscles. Healing Hilot is a unique technique that incorporates deep pressure, firm kneading and gentle strokes.
Healing Hilot massage therapy incorporates the use of wonderful herbal oils. These consist of special herbal extracts which can really help in treating the general health of your body. When your body absorbs herbal oils, the skin becomes softer whilst any inflammation and muscle pain is significantly reduced. During the massage, the therapist applies some of these warm oils to your body, in particular concentrating on painful areas. Healing Hilot is one of the most effective therapies for treating sore and stiff muscles, relieving pain and removing any toxins.
Healing Hilot is also often used for skeletal manipulation to treat spinal disc problems. A Healing Hilot massage has a wonderful curing effect on the general health of the human body. It improves all-round flexibility and fitness, whilst it also relaxes deep muscles. Healing Hilot massage also takes away weariness and tension. A Healing Hilot massage is a great therapy for both office workers and sportsmen, as it is very helpful in reviving the nerves, healing injured tissues and relieving any tight and painful muscles.
Call and book a relaxing session of exotic Healing Hilot massage to experience the wonderful healing effect of this ancient Filipino therapy – treat those muscles and regain that energy and power!
Healing Hilot Massage at Cool Aroma Spa
Price: 60, 90 or 120 mins is AED 210, 310 or 400
Call to book your treatment on + 971 4 370 9706.
AED 1,800 for 10x 1 hour Massage – choose from Ashiatsu, Deep Tissue, Shiatsu, Thai
AED 1,700 for 10x 1 hour Massage – choose from Aromatherapy, Balinese, Healing Hilot