Hot Stone Massage
Suggested for :  still muscles, detoxifying, improved blood circulation, relaxation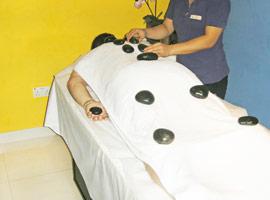 call To Book +971 4 370 9706
When you have an aching and tired back and experience constant moral and physical tensions, a rejuvenating Hot Stone Massage will help to recover your body and spirit. A Hot Stone Massage is a mixture of exotic and traditional massage methods. Our Hot Stone Massage incorporates skin manipulation with the use of some hot stones along with gentle pressure. It is designed to specifically allow a deeper penetration of heat into the skin. Hot stones will warm up the body's deep tissues, relax stiff muscles and detoxify the skin. Smooth hot stones stimulate energy points and increase blood circulation through the body.
Before applying the stones, your therapist will warm up your body using a traditional massage style. After this you will feel the comforting and gentle touch of warm stones, special attention will be made to your spine. The stones will then slowly cool, taking away all of your tension bringing you to a state of complete balance and harmony. Most men who have tried a Hot Stone Massage would never go for a regular massage therapy again. Since Hot Stone Massage often includes both massage techniques and the application of hot stones, it is perfect for treating stiff and aching muscles.
Book a Hot Stone Massage therapy to rejuvenate your body and mind! Get an exotic relaxing massage and shake off your stress and anxiety.
Hot Stone Massage at Cool Aroma Spa
Price: 60, 90 or 120 mins is AED 250, 350 or 450
Call to book your treatment on + 971 4 370 9706.
AED 1,800 for 10x 1 hour Massage – choose from Ashiatsu, Deep Tissue, Shiatsu, Thai
AED 1,700 for 10x 1 hour Massage – choose from Aromatherapy, Balinese, Healing Hilot