Indian Head Massage
Suggested for :  headaches, migraines, insomnia, hair loss, eye pain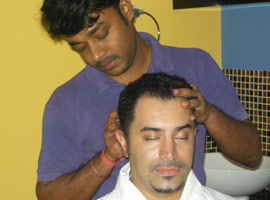 call To Book +971 4 370 9706
Do you suffer for sudden and continuous headaches, pressure in the temples and at the back of the head? 
These and many other symptoms including eye pain, ear pain and even hair loss can be greatly improved with Indian Head Massage. Indian Head Massage uses a special technique based on pressing down on specific acupressure points to relieve psychological stress and tension. Regular Head Massages can dispel insomnia and migraines, improve sight and also hearing sensitivity.
The Indian Head Massage is an ancient Ayurvedic technique which has been used by Indian healers for centuries. It improves blood circulation and stimulates hair growth, so regular procedures almost guarantee thick and healthy hair.
The treatment starts with massaging the neck, slowly proceeding to the head and finishing with a relaxing face massage. Indian Head Massages improve your blood and energy flow. If your work is connected with intensive mental activity, an Indian Head Massage can do wonders for your memory; it can clear your mind and make space for new thoughts and ideas! The circulation of well-oxygenated blood to the brain can result in stimulation of the memory and much clearer thinking.
An Indian Head Massage regulates blood pressure, releasing it from stress whilst relaxing the whole body and mind. You should take advantage and book a rejuvenating Indian Head Massage to cure your headache and improve sight and mental performance to enjoy a healthy life without stress and tension.
Indian Head Massage at Cool Aroma Spa
Price: 30, 45 or 60 mins is AED 140, 170 or 200
Call to book your treatment on + 971 4 370 9706.
AED 1,800 for 10x 1 hour Massage – choose from Ashiatsu, Deep Tissue, Shiatsu, Thai
AED 1,700 for 10x 1 hour Massage – choose from Aromatherapy, Balinese, Healing Hilot