Shiatsu Massage
Suggested for :  stress relief, improving blood circulation, restoring energy flow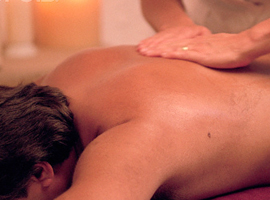 call To Book +971 4 370 9706
Do you have to cope with daily stress and often have all your body and mind tensed up?
Sometimes we might feel that our body starts losing its healthy condition and we may experience constant fatigue and weakness. The ancient Japanese Shiatsu Massage therapy is one a key option for rejuvenating your body and achieving relief from muscle pains. Shiatsu Massage is more than just a simple extravagance or exotic luxury. The Shiatsu Massage technique is definitely one of a kind for its ability to give a constant and even pressure to the whole body.
A Shiatsu Massage uses the principles of acupuncture, as it is based on pressing fingers and palms to specific points on the body, thus aiming to stimulate blood circulation and balance the body's energies. A therapist massages different parts of the body including the arms, neck, head, shoulders and back. The pressure stimulates blood circulation and therefore restores the energy flow and activates the self-healing powers of the body. It brings relaxation and a feeling of well-being to both the spirit and mind. During a massage session, you will descend deeply into a state of complete peace and harmony.
Why not call and book a rejuvenating session of Shiatsu Massage, to experience relief from stress and muscle pain, whilst regaining your life's energy and the condition your body?
Shiatsu Massage at Cool Aroma Spa
Price: 60, 90 or 120 minutes is AED 220, 320 or 410
Call to book your treatment on + 971 4 370 9706.
AED 1,800 for 10x 1 hour Massage – choose from Ashiatsu, Deep Tissue, Shiatsu, Thai
AED 1,700 for 10x 1 hour Massage – choose from Aromatherapy, Balinese, Healing Hilot